What happens to your business if your NBN fails?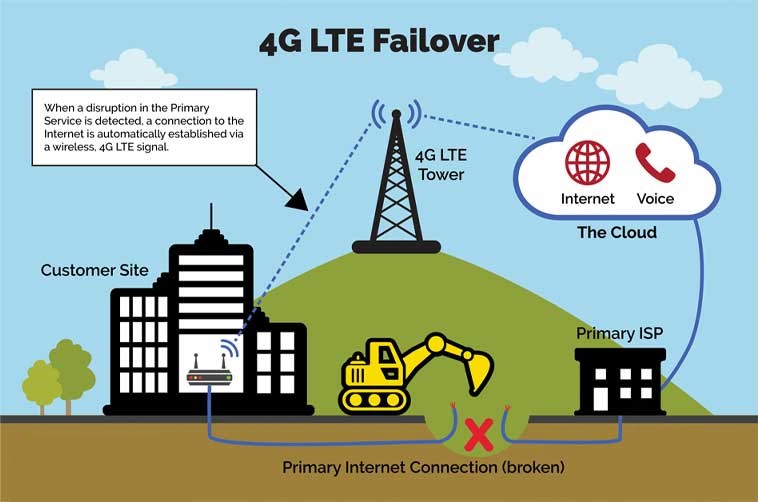 Internet downtime can be devastating to your business killing productivity, taking away your ability to generate revenue, and potentially damaging your reputation.
Talking Business's NBN Static IP Fail-over Solution protects your business against internet downtime with an intelligent system that detects an NBN disruption and automatically fails your NBN service over to a secondary 4G service keeping your original public IP address. This means that everything you need is still available even though you are no longer using the NBN.
When your NBN returns, you are automatically and seamlessly routed back. For a low monthly fee, you get complete automatic protection, and the peace of mind that an NBN outage won't paralyze your business.
Note that this solution is unmanaged and does not provide routing or reporting services. If a Managed Fail-over service is needed then please refer to our Fusion Bonding options.
So – what's required?
Firstly you need a Talking Business NBN service. If you don't already have one then refer to our Talking Business NBN options.
You will also need a 4G service to fail-over to. If you don't already have one then we can also supply one for you.
Lastly you will need some special hardware that we have developed to make this all work seamlessly.
There are two options – one for a FTTN or FTTB and one for FTTP or FTTC or HFC.
What does it cost?
We can provide this service in either of two ways on a 24 month contract.
You supply the 4G SIM – so you can use your own corporate plan with your preferred supplier.
We supply the 4G SIM – this will be an Optus SIM with 25 Gig of allocated data available per month.
| | Service Type | Monthly Data Allocation | Monthly Charge | Total Contract Cost |
| --- | --- | --- | --- | --- |
| If you supply the 4G SIM | FTTN or FTTB | Not Relevant | $54 | $1,176 |
| | FTTP or FTTC or HFC | Not Relevant | $47 | $1,032 |
| If we supply the 4G SIM | FTTN or FTTB | 25 Gig* | $69 | $1,536 |
| | FTTP or FTTC or HFC | 25 Gig* | $62 | $1,392 |
Prices exclude GST and do not include the charge for the required NBN service.
*Extra data charged at $1 per Gig or part thereof if you exceed the allocated amount per month. Unused data does not roll over at the end of the month.
Update:
If your 4G signal isn't quite strong enough to operate correctly then consider purchasing a separate indoor antenna to increase the signal.
This unit is under $100. Freight is dependent on your location.
Call 1300 666765 now to discuss how we can help you improve your internet services and save you money!