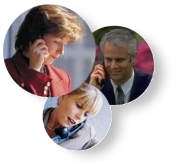 Audio Conferencing Made Simple
There are times that you want to quickly bring your team together over the phone to have a group discussion. Your team could be anywhere around the Australia. They may be on a standard desk phone or on a mobile phone.
Where they are doesn't matter – how you connect does!
Talking Business now has a Conference Bridge with absolutely no complexity. Simply give your team your own 1300 Conference number, your PIN number and the time the conference starts. There is nothing to book, nothing to configure, and nothing to worry about.
How it works
Talking Business provides you with a 1300 number that terminates on our Conference Bridge. This number is for your use only. We also provide you with a security PIN that you give out to your conference attendees. When they call at the appointed time our Conference Bridge announces their arrival and they join your conference. When they leave, our Conference Bridge automatically removes them.
Our pricing for this service is just as simple as its use.
Simple Call Structure for 1300 Conference
| | |
| --- | --- |
| 1300 Number Monthly Rental with Conference Bridge | $30.00 |
| Calls from any Australian number free for the first 5 minutes then | per minute – 6c |
All our inbound services are priced per minute but they are billed per second. Price excluding GST – 12 month contract – installation charges apply.
Call 1300 666765 now to discuss how we can help you improve your telephone services and save you money!